I have been considering the idea of using a hotel affiliate program on a niche site ever since I saw a site on Flippa.com (http://sgholiday.com/) and how it made a massive $27,000 in one month using Agoda affiliate and sold for 160K. I know this is not easy to create and would take a whole bunch of work to get a site from nothing to 27K but I would have to do it with AdSense niche sites anyway… why not look into starting some sort of holiday niche instead?
Why would you rather use a affiliate when AdSense is one of the biggest and easiest ways to monetise your site?
You may not be getting the most out of your sites with AdSense and you have  some more options when it comes to hotel booking/ travel affiliates or any affiliate for that matter.
Your AdSense account may be banned.
Your site may be in a niche that has a good affiliate that you can earn more from.
Potential to earn more with an affiliates.
Less restricted than AdSense.
Diversify your online income.
Of course you could easily substitute a hotel booking affiliate for any other kind of affiliate like hosting for example but in this blog I'll just be talking about Hotelscombined affiliate program. There are many pros and cons of using AdSense and affiliates so lets take a look at the most important pros and cons
Adsense
Positive
Huge number of advertisers so advertisement can be targeted to the visitors on your site.
Can select from a large number of niches to go after.
Easier to sell/flip sites in the long term with adsense.
Paid on a per click basis…users dont need to buy anything just click even by dam mistake.
Adsense is easy to use and to put up on sites even a monkey could do it.
Negatives
A pain just to sign up and be approved.
Alot of people can notice an Adsense advertisement and won't click on advertisements often making a low CTR on authority sites.
Very controlled by Google. For example break the rule 4.7 section 7.9 in In Googles 6000 page document "terms and conditions" and you will be banned for life even though you had no idea wtf the rule was and will be given no warning and no explanation.
Hotels Combined
Positives
Easy to get an account. Immediate account when you sign up.
Less controlled.
Can easily change to another affiliate if there is a problem like agoda.com or many other affiliates to choose from
Can customise advertisements so they don't always look like advertisements.
12 month cookie (once they click your link…. for 12 months if they book anything you get paid).
Negatives
Can really only target travel Niches.
Travel Niches can be hard to crack.
You need the person clicking on the sites to click through and then click on "book" to get paid. With Agoda you need them to actually book and pay (but you can be paid more).
Possibly harder to get paid as their is a low booking rate.
People generally buy from people they trust some affiliates wouldn't work on a niche site as there is no trust or relationship built with the readers.
There are 3 main ways you could use a hotel affiliate program-
Build out small niche sites targeting 800-3000 searches globally the same way people make mini AdSense niche sites. But here just target keywords related to your affiliate for instance niche travel keywords
Build out a bigger site that targets many many keywords for a particular travel niche. Just make sure every post and article is targeted at a particular keyword and it is well written and informative.
Target a particular hotel for example "Siena Hotel Reno" often these sites have .com availability. There is literally thousands to choose as their are so many hotels in the world. Best of all these people are looking to book a hotel so they are the exact people you want to attract.
This is an advertisement from hotelscombined…… best thing is that it does not even look like an advertisement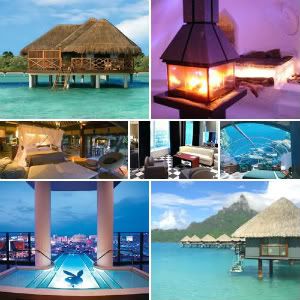 As you can see you will probably get a higher CTR on a travel site with an advertisement like that. The only thing is getting a visitor to make a booking would be quite low compared to just getting paid per click. I am in the early stages of starting this project and have not had outstanding results. I have had around 4-5 Click through's/day and produced only a handful of leads so far but the sites are only one month old so that's to be expected. Here is a niche we will be going after and just started to build out http://kowloonholidays.com/. This site will have all articles keyword rich and targeted towards travelers looking to book hotels and stay in Kowloon HongKong. This site will however take months before it gains any traction or progress compared to a more targeted niche like "Kowloon Family Friendly Resorts" for example. Holiday Niches from what I have found so far can be very competitive compared to other niches which kind of sucks. But I can have someone work on this site and 4 other travel sites writing an article a day for $250/month so its worth a shot. If we can come even close to what http://sgholiday.com/ has done it will be well worth the money invested. I will also be trying to spend as little time as possible on these sites once they are set up apart from keyword research.
So basically our strategy is to pump out hotel sites like SienaHotelReno.net for example that targets a exact hotel in an exact location and has 1000 to 5000 searches. Then we will work on our 4 travel sites that will be built out over time. These may take months and months to work and will take us a long time to know if it is working or not but the hotel targeted sites we will know within a couple of months if it will work or not.  As soon as we have any sort of data or results I will write up a post about it. I can really see this working and cant see why it wouldn't work the same way people make Adsense sites just pumping out sites as quickly and as cheaply as possible. Then as more and more people click our affiliate links eventually some will stick.
Anyways choosing if you should use Adsense or An affiliate really depends on your business model and  what you want to achieve long term. They both have there pros and cons you should consider. The main thing here is no matter what you choose you should really diversify your online income and "not to put all your chickens in one oven"
. This is a risky strategy and has hurt us in the past and still is in a way. While we are shifting towards focusing more on only the customers we know we can deliver the best results to in our outsourcing business we still need to diversify where our money is coming from eg- not just remoteworkmate.  Having one site and one type of customer if things take a turn for the worst can lead to a catastrophic disaster one i'd rather avoid and so should you to help keep your sweet ass lifestyle  in tact.